Description
JUWEL RIO 240 Litre Aquarium Dark Wood
Item#: JUW03700FS 
Made in Germany
2 year warranty
HeliaLux LED 54watt (Free Upgrade to LED)
Heater 200 Watt
Filter Bioflow 3.0 3 litre
Pump Juwel ECCOFLOW 600 l/h 6.5watt
Emphasising individuality
Timeless, elegant design, perfect workmanship and innovative technology – at a width of 120 cm, you can simply enjoy a perfect view. Measuring 121 x 41 cm and with its classic rectangular design, the RIO 240 fits into any home without compromising on style.
Its safety base frame ensures especially safe positioning and allows you to set up your aquarium easily, with no need for special supports.
Painstaking workmanship from Germany, top-quality materials and perfectly tuned technology guarantee the very best of quality and safety, meaning a long service life for your RIO 240.
A treat for the eyes: the JUWEL HeliaLux LED lighting system
Brilliant luminosity and excellent plant growth are what you get with HeliaLux LED. 
The HealiaLux LED lighting system for the RIO 240 means that you can work on your aquarium in comfort, even when the lighting is switched on.
The ultrasonically welded lighting unit is 100% waterproof, complies with top European safety standards and is TÜV/GS certified.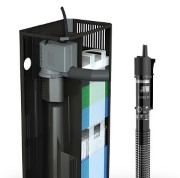 Bioflow 3.0 filter system and heater
For optimum filtering, the RIO 240 is fitted with a high-performance Bioflow 3.0. This internal filter combines efficiency with safety and forms the centrepiece of any JUWEL aquarium. It works on the principle that "The water should stay in the aquarium!" and is the safest way of filtering an aquarium. The Bioflow 3.0 comes fitted with five high-performance filter media and a quiet yet powerful Eccoflow 600 circulation pump.
The 200 Watt JUWEL adjustable heater, which is perfectly embedded in the water circulation in the Bioflow 3.0 filter system, ensures the right temperature in the RIO 240.
Because it uses top-quality silver contacts and shock-proof borosilicate glass, JUWEL adjustable heaters meet the highest standards in both function and safety and, as you would expect, are TÜV/GS certified.
A perfect match: the base cabinet
With the matching base cabinet, your aquarium will stand safely on solid ground. The two of them also make the perfect pair from a visual point of view, as the base cabinet is available in the same colour as the aquarium. Easy to assemble with generous storage space for accessories and equipment, they also leave nothing to be desired from a practical point of view.
In fact, all that is left for you to do is simply to enjoy your beautiful style accessory every day!
Payment & Security
Your payment information is processed securely. We do not store credit card details nor have access to your credit card information.