Description
JUWEL LIDO 120 Litre Aquarium Dark Wood
Item#: JUW11700FS
Made in Germany
2 year warranty
HeliaLux LED 24 watt
Heater 120 Watt
Filter Bioflow M - volume 3 litres
Pump Juwel ECCOFLOW 600 l/h 7watt
Reduction to the core
The cubic one - the LIDO 120 sets stylish accents with a sense for clear lines. Exhibiting a width of 61 cm, a height of 58 cm and a special depth of 41 cm, the LIDO 120 is also perfectly suited as seawater aquarium.
The safety base frame ensures a particularly reliable placement and facilitates  a problem-free arrangement of the aquarium without special pads.
Skilful workmanship from Germany, high-quality materials and perfectly coordinated technology ensure a maximum of quality and safety and consequently guarantee the longevity of the LIDO 120.
A treat for the eyes: the JUWEL HeliaLux LED lighting system
Brilliant luminosity and excellent plant growth are what you get with HeliaLux LED. 
The HealiaLux LED lighting system for the LIDO 120 means that you can work on your aquarium in comfort, even when the lighting is switched on.
The ultrasonically welded lighting unit is 100% waterproof, complies with top European safety standards and is TÜV/GS certified.
Bioflow 6.0 filter system and heater
The LIDO 120 is equipped with a powerful Bioflow 3.0 for optimum filtering. This inside filter combines efficiency with safety and forms the centrepiece of a JUWEL aquarium. It follows the "The water remains in the aquarium!" principle and consequently constitutes the most secure manner for filtering an aquarium. The Bioflow 3.0 is equipped with five powerful filter media and a quiet, strong Eccoflow 600 circulating pump.

The JUWEL adjustable heater 120 watts which is ideally integrated in the water circuit of the Bioflow 3.0 filter system ensures the correct temperature in the LIDO 120.
Thanks to the use of high-quality silver contacts and impact-resistant borosilicate glass, the JUWEL adjustable heater meets the most stringent requirements with regard to function and safety and is TÜV/GS-certified as a matter of course.
Perfectly matched: The base unit
Your aquarium definitely stands on solid ground with the matching base unit. The two are even optically the perfect duo due to the fact that the base unit is available in the colours of the aquarium. The very easy assembly and the generous storage space, for example for feed, do not leave any desires unfulfilled when it comes to pragmatism.
In fact, all that is left for you to do is simply to enjoy your beautiful style accessory every day!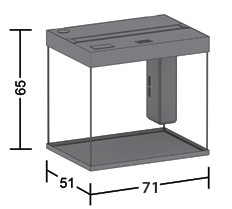 Payment & Security
Your payment information is processed securely. We do not store credit card details nor have access to your credit card information.